Over the years with different printer models and resins, there have been numerous guidelines on resin storage. We've analyzed a significant amount of data and have come up with new recommendations on how to maximum the working life of resins.
Following these recommendations will ensure the best print results and will enable resin storage in the tank for up to 6 months.

Recommendations to maximize resin working life:
Cover the tank with the black plastic lid whenever the printer is not in use or when the tank is outside of the printer.
Contact SprintRay to order replacement lids if your current lid doesn't fit securely. The Pro 95 tank lid design has recently changed to improve performance - new lids are matte black and fit snugly over the edge of the tank.
Store tanks containing resin in a dark location at room temperature between 10°-30°C (50°-86°F).
Mix the resin in the tank before each print by stirring for at least 30 seconds.
Remove the cover and stir the resin for at least 30 seconds once a month when the resin tank is in storage. Replace the cover after stirring.
Replace the resin tank at regular intervals. Use and care of the tank will influence how long it lasts. For best results, tanks for Pro series printers (Pro 95 and Pro 55) should be replaced after every 10 liters of resin. MoonRay resin drums utilize a different design and should be replaced after every 50 liters of resin.
Important update about using multiple resins:
After analyzing the data, we highly recommend using a separate tank for each separate type of resin to avoid cross-contamination. This best practice will also speed up printer changeover when printing with multiple resins. The build platform can be re-used but should be cleaned between types of resin.
Frequently Asked Questions
How do I tell which Pro 95 tank lid I have?
New lids will soon have these updated recommendations as well, so if your lid's instructions match the above, you are good! Otherwise, refer to the below image to determine if you have a v1 or v2 Pro 95 lid. The new one is snugger and matte black, instead of thinner and shiny black.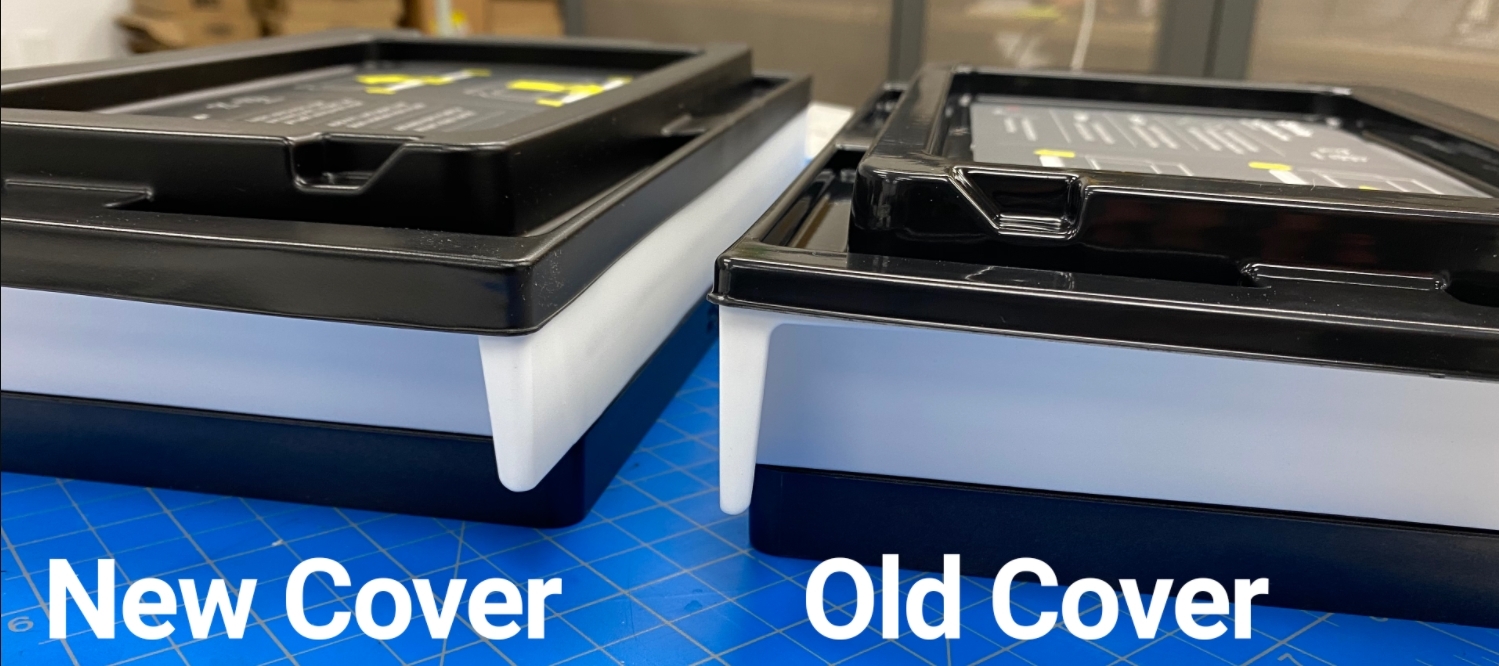 How can I get a new lid?
All new Pro 95 tanks will come with a new lid. All MoonRay Drum Assemblies (not the drum itself) will also come with a lid. If you want to order a Pro 95 lid separately, please contact customer support at 1 (800) 914-8004
How do I know how much resin has been used in a single tank?
Your Dashboard account will tell you how much material you've used on your Pro. This is part of why it's so important to have one tank per type of material - simply designate one tank per type of resin and let Dashboard calculate the amount used.